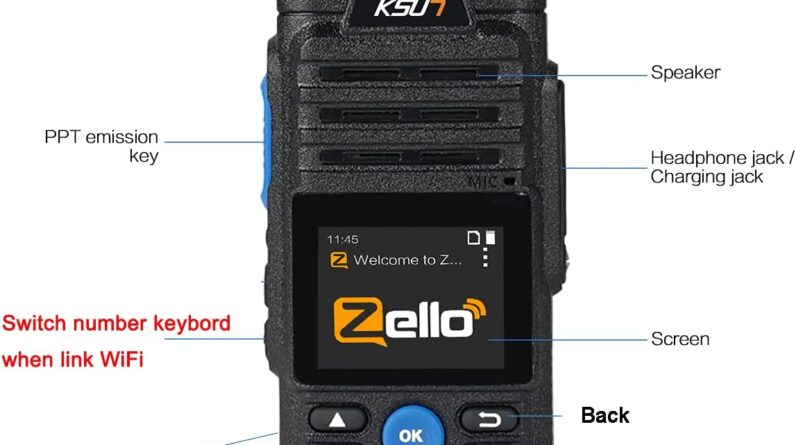 KSUN ZL10 Zello PTT WiFi Mobile Radio
We recommend this KSUN ZL10 for those looking for a bit more privacy and security of their communications. This radio is an internet only two-way radio using the Zello CB Radio app for Android devices. With that said, keep in mind this radio will be pretty much useless in a SHTF situation where the grid is down or the networks are down or locked down by an enemy force. However they can be pretty useful in daily life to keep prying ears from listening in. The features are listed below however just a quick overview, these radios can communicate one on one private or can have channels set up with specified users who require an invite in order to take part in communicating in the group on any given channel.
Please keep in mind this is a Chinese manufactured radio. There are some Con's to this radio, it can be a bit difficult to navigate the menus and enter login information due to the screen resolution from Factory however anyone with a little know-how, Android Debug Bridge, and SCRCPY can make adjustments to correct that problem. Check out this how to Video.
About this item
This

KSUN ZL10

Network Radio operates through the use of Cellular 3G/4G or WiFi.
The Zello App allows you to chat with your friends worldwide. The Zello platform supports private calls and group calls.

Private calls are one on one calls, group calls are configured in a group channel and anyone invited to the channel can communicate with anyone else within that channel.


This 2 Way radios use a 4000mAh high capacity battery with fast USB charging, it can be used for 3 – 6 days standby and 2-3 days with more continuous us

KSUN ZL10 is an Android based walkie-talkie that supports WiFi. There is no limit to the talk range as long. As there is a network connection, you can talk anywhere in your country or the world.