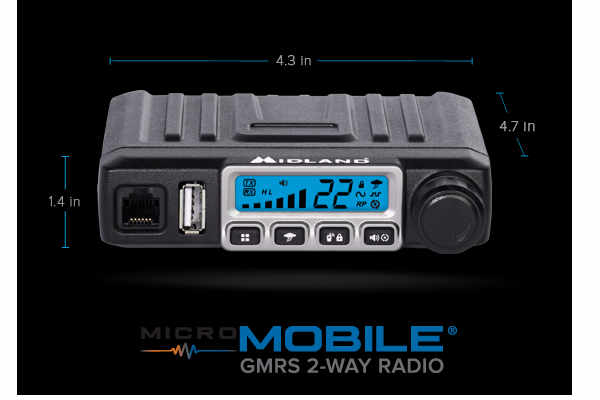 Midland MXT115, 15 Watt Micro Mobile 
We recommend the Midland MXT115, 15 Watt Micro Mobile for a GMRS Fixed Station. GMRS Fixed Stations are limited to 15 Watts transmitter power output. This still allows for higher (ERP) "effective radiated power" with the use of a gain antenna. The MXT115 would not be suitable for communication on the 462 MHz interstitial channels which are restricted to a maximum ERP of 5 watts.
Expand your communication range with 15 Watts of GMRS power in your vehicle or build out your own GMRS base station with the MXT115 MicroMobile® GMRS Two-Way Radio. This radio boasts triple the range of traditional handheld two-way radios. It easily mounts in most vehicles and communicates with all Midland FRS/GMRS walkie talkies. Featuring all 8 repeater GMRS channels for immense transmission and reception ranges, a multi-colored LCD backlit display, and NOAA weather alert channels. The MXT115 also features a powerful USB-C charging port, allowing the quickest charge time for all your devices, including cell phones and hand-held radios.
*Compatible with Midland FRS/GMRS walkie talkies.