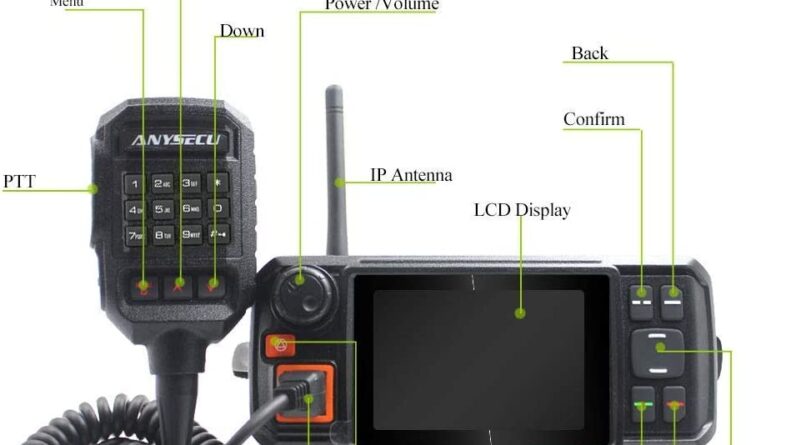 ANYSECU W2 Plus Network Radio N60 WCDMA/GSM 4G Internet Mobile Radio
We have not reviewed this radio at all at this time. We've only included this radio in our Recommended Products for Network Radios as it is the only budget priced Mobile.Base Station radio available at the time of this posting that works with Zello through the Cellular and WiFi networks. This makes it an option to go along with the KSUN ZL10 Zello based Network walkie talkie Radio.
Details about the radio from the Manufacture.
4G-W2 walkie talkie, Network Radio talk no distance limit, no Country limit, Talk worldwide freely. 4G signal, fast talking, no delay.

Features: Support Zello/Real PTT, 2G/3G/4G machine, distance limitless. Single/Group/All talk, LCD Display, and GPS Tracy.

W2 is Android system support users download compatible talk app from play store, but key value must adjust to fit the PTT and other functions, we accept costly ODM.

Note: Network Radio need use data from wifi or from Sim card. Radio Support Real PTT (smart PTT) platform & Cost User ID Yearly Fee, users also can choose free zello app. ( the price not including real ptt yearly fee). Not support Verizon card

Standard package: Mobile phone radio*1, DTMF Microphone*1, Bracket*1, GPS Antenna*1, GSM Antenna*1, Power cable*1, English Manual*1, Car charger*1. FCC IDENTIFIER: 2AVLJGC388082
Product Description
ANYSECU 4G-W2 WCDMA/GSM Walkie Talkie LTE FDD Internet Mobile Radio IP Network PTT Radio Work with Zello/Real PTT Fast Talk
General Specification
CPU: MT6737M Quad core processor 64bit
RAM+ROM: 1GB+8GB
OS: Android 7.0
Screen Size: 4.5 inches, 480x320mm
Language: Multi languages
Frequency band: US version
FDD-LTE:Band1/2/4/5/7/12/13/17/28a/28b
WCDMA: Band 1/2/4/5
GSM/GPRS/EDGE: Band2/5
Antenna
1)WCDMA/GSM with external antenna
2)GPS antenna with external antenna
3) BT/WIFI antenna is built-in FPC antenna
Wifi: IEEE802.11 b/g/n
Bluetooth: Bluetooth 3.0HS
GPS: GPS/AGPS
USB: USB 2.0
SIM Type: Standard sim card
Dimension: 170x80x85mm
Weight: 380g
Working Voltage: DC 10-24V
Platform Tested:RealPTT, Zello
Talk Range:Limitless in WCDMA/GSM Cover range
Get started
First of all, you have to prepare a sim card (standard size ) with data flow function activated for your network radio.
Connect ACC power cable to your Radio
Ex-work cable is with automatically power on function, for home power supply, red is positive, black is negative, blue for ignore.
For install to car, connect blue cable will automatically power on when you start your car.
Install GPS & GSM Antenna to the radio
Please Install Antenna to the radio before use or there maybe no signal.
Install SIM CARD: bottom of the Radio is Sim card port (standard size), insert the SIM card, and close the dust cover. (How to choose SIM card? 850/1800/1900/2100MHz; Standard SIM size,With economic data flow to save the cost; Choose the service provider stable signal)
Connect WIFI: Settings Wi-fi: connect your Wifi to offer data to the Radio.

Note: Not support Verizon card
FCC IDENTIFIER: 2AVLJGC388082