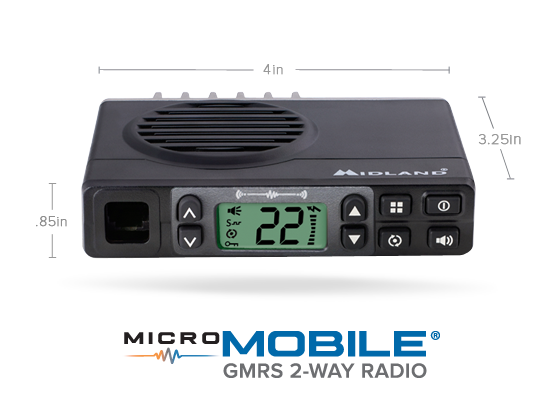 Midland MXT105, 5 Watt Micro Mobile 
We recommend the Midland MXT105, 5 Watt Micro Mobile for a GMRS short range communication station. With this mobile unit limited to 5 Watts transmitter power output it would work great for local mobile use on such vehicles as ATV's, Snowmobiles, ect. An excellent close range low power base or mobile station to keep communication tactically short distance. This unit still allows for higher (ERP) "effective radiated power" with the use of a gain antenna. The MXT105 would be suitable for communication on the 462 MHz interstitial channels which are restricted to a maximum ERP of 5 watts so long as you use a unity or negative gain antenna along with it in a base or mobile station configuration.
Expand your communication range with 5 Watts of GMRS power in your vehicle or build out your own GMRS base station with the MXT105 MicroMobile® GMRS Two-Way Radio. This radio boasts double the range of traditional handheld two-way radios. It easily mounts in most vehicles and communicates with all Midland FRS/GMRS walkie talkies and others. Featuring all 8 repeater GMRS channels for immense transmission and reception ranges, a multi-colored LCD backlit display, and NOAA weather alert channels. The MXT105 also features a powerful USB-C charging port, allowing the quickest charge time for all your devices, including cell phones and hand-held radios.
*Compatible with Midland FRS/GMRS walkie talkies.