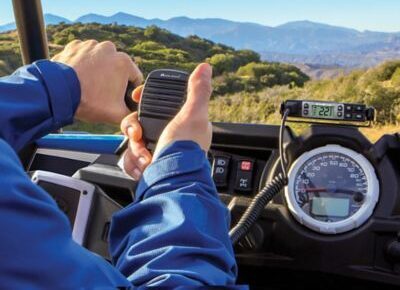 Operating a General Mobile Radio Service (GMRS) Station:
A GMRS licensee may use a combination of portable, mobile, fixed and repeater stations consistent with the operational and technical rules in Subpart E of Part 95. The use of some channels is restricted to certain types of stations and certain channels are reserved for voice-only operations, while other channels allow voice and data operations.
None of the GMRS channels are assigned for the exclusive use of any system. You must cooperate in the selection and use of the channels in order to make the most effective use of them and to reduce the possibility of interference.
You can expect a communications range of five to twenty-five miles. You cannot directly interconnect a GMRS station with the telephone network.
Normally, you and your family members would communicate between yourselves directly or through a repeater station. The stations must be within the territorial limits of the fifty United States, the District of Columbia, and the Caribbean and Pacific Insular areas.
In transient use, a mobile station from one GMRS system may communicate through a mobile relay station (repeater) in another GMRS system with the permission of its licensee. The communications may also be with mobile stations from other GMRS systems also with permission from the licensee to communicate through the mobile relay station.